Bernardi Toyota-Scion Expansion and Renovation
March 12, 2015 - Visit the All-New Bernardi Toyota!
The facility boasts all-new flooring and wall finishes throughout. The showroom and service reception areas feature 12" by 24" Italian porcelain, and the service drive is finished with non-slip tile made specifically for dealership applications. The drive was expanded to accommodate more vehicles and the suspended ceiling was removed, resulting in a more open and airy feeling. Areas previously wallpapered are now finished with warm cream-colored paint.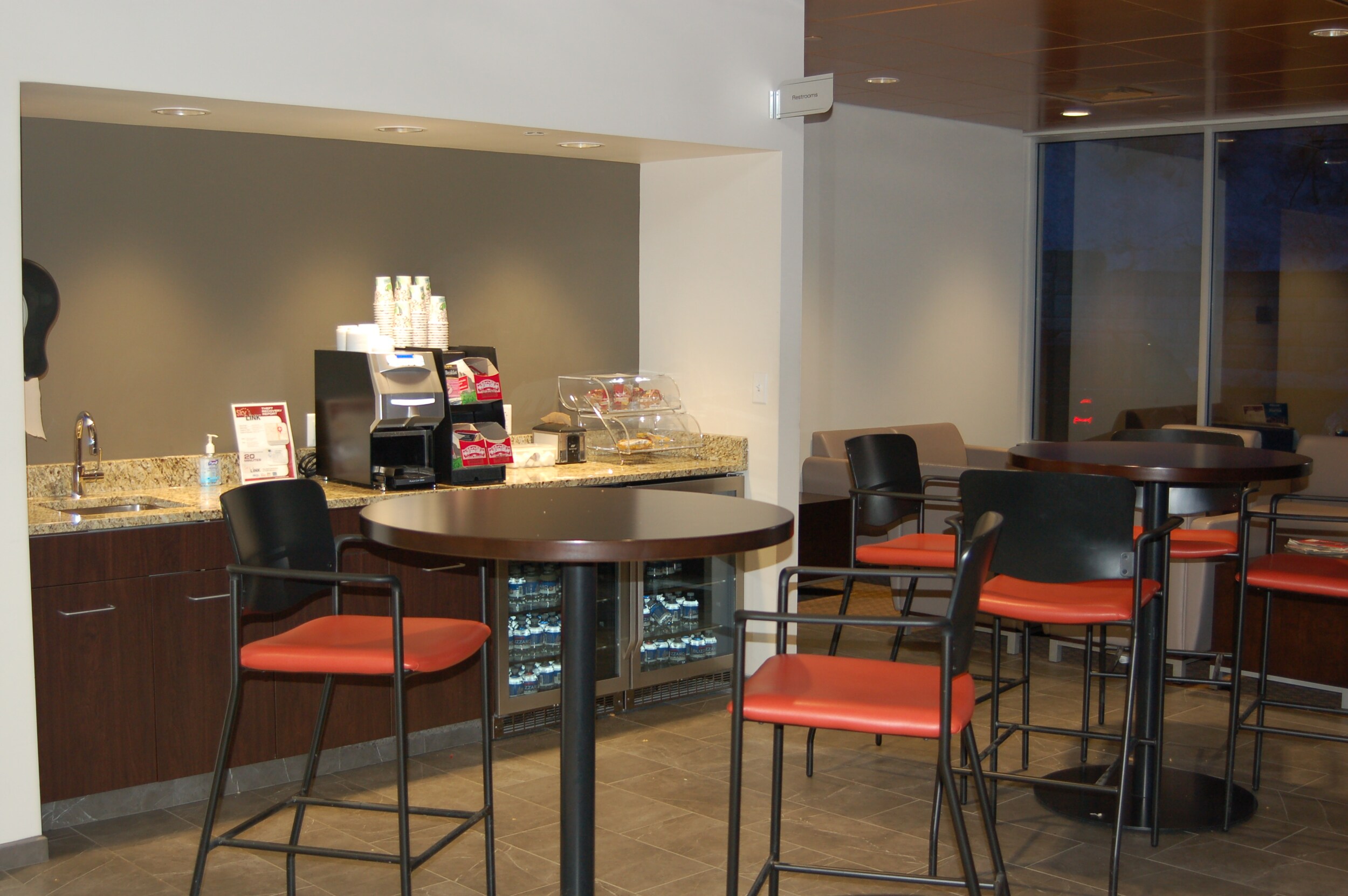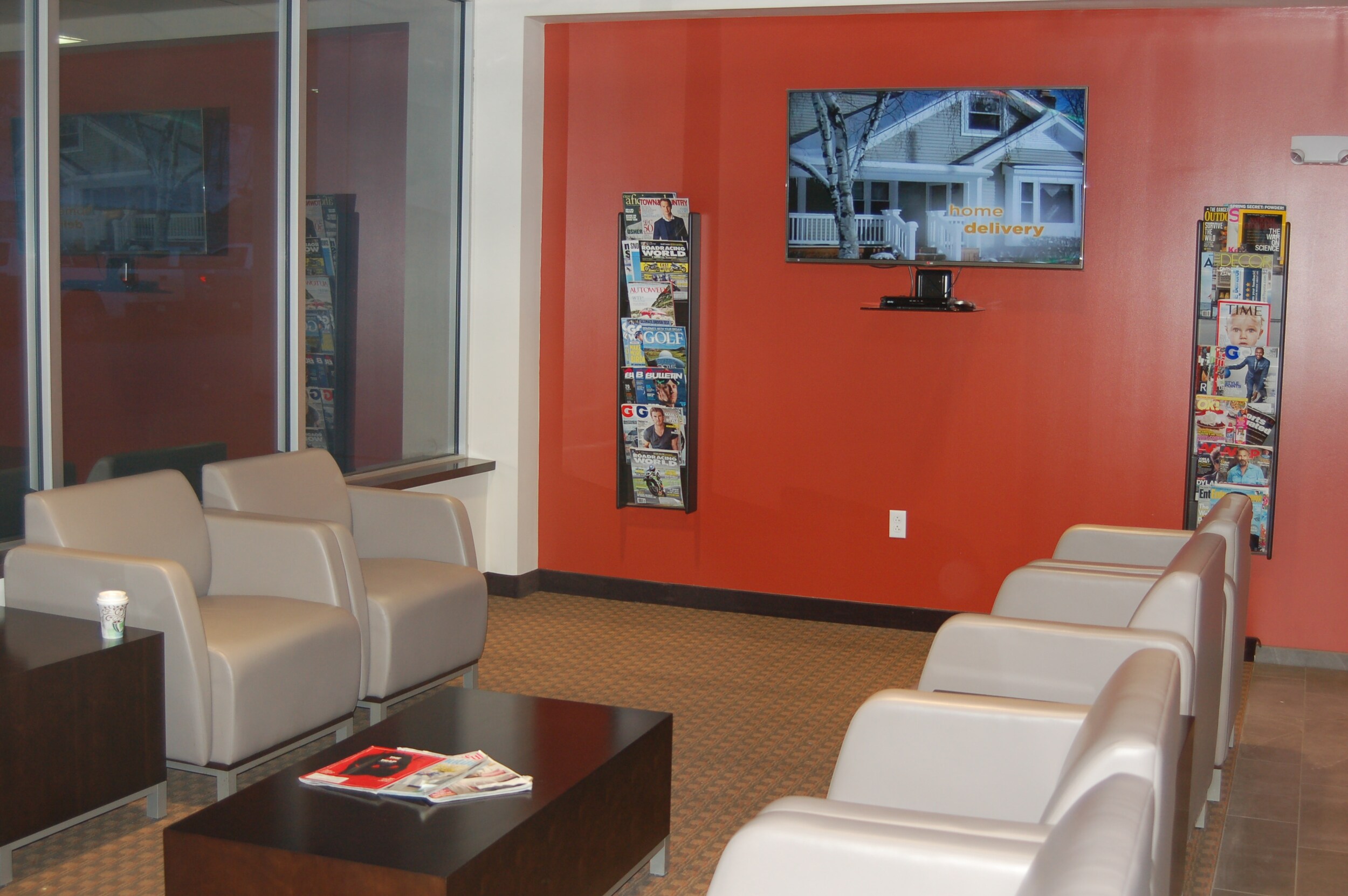 The customer café and lounge have been upgraded with soft seating and a mix of high-top tables and dining height tables and chairs. A rich wood tile ceiling enhances a comfortable atmosphere where customers can relax, enjoy complimentary beverages and snacks and keep up with news or programming on two 55" flat screens. Those who prefer a quiet area in which to work on a laptop or tablet can visit the customer business center. The restrooms are larger and elegantly appointed.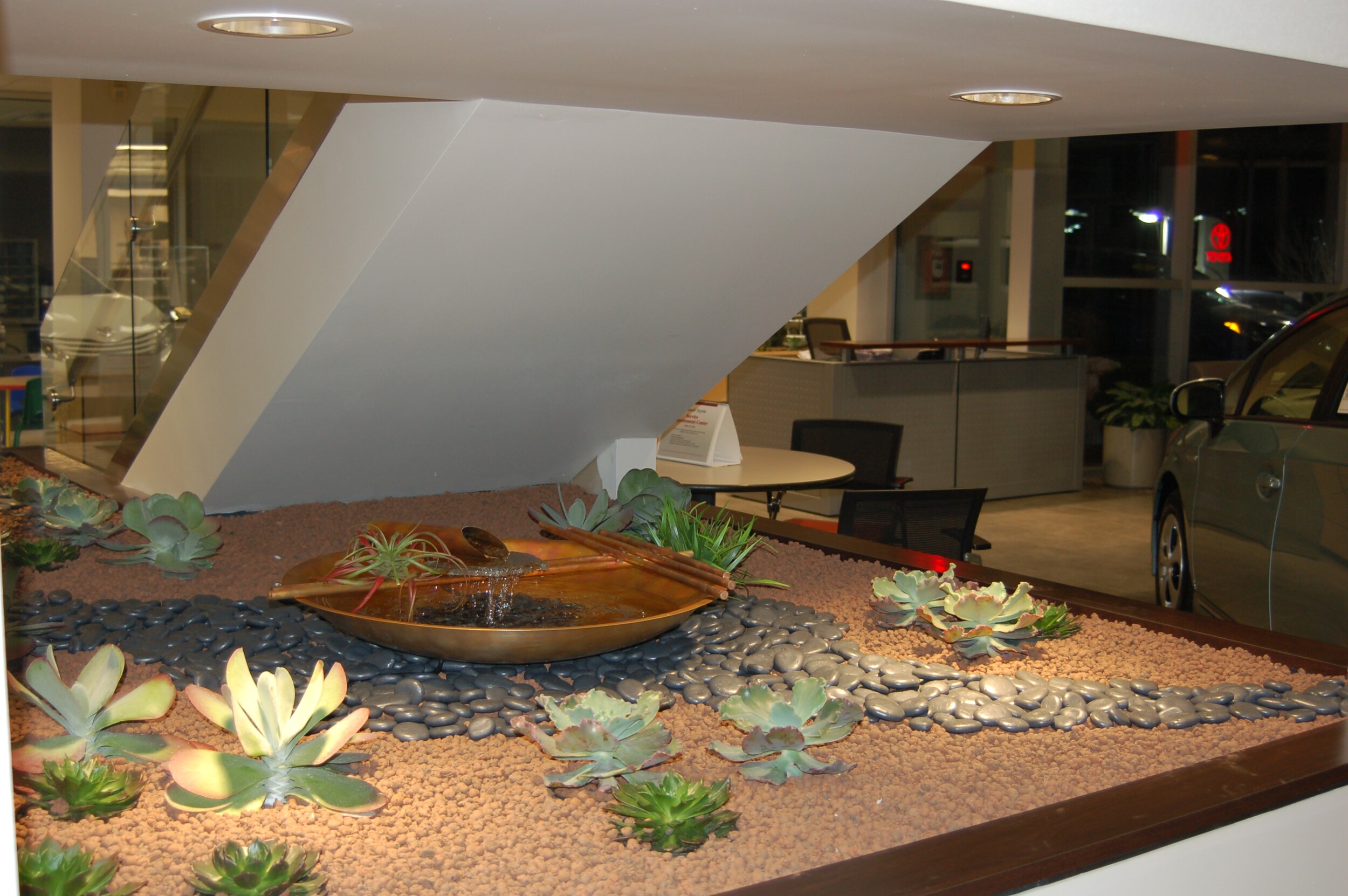 The main entrance to the dealership is more open and inviting; walls have been removed and the staircase is now glass-paneled allowing greater visibility into and through the showroom. The planter beneath the main stair is smaller to allow better flow throughout the entry and showroom but contains a beautiful array of succulent flora surrounding a trickling fountain.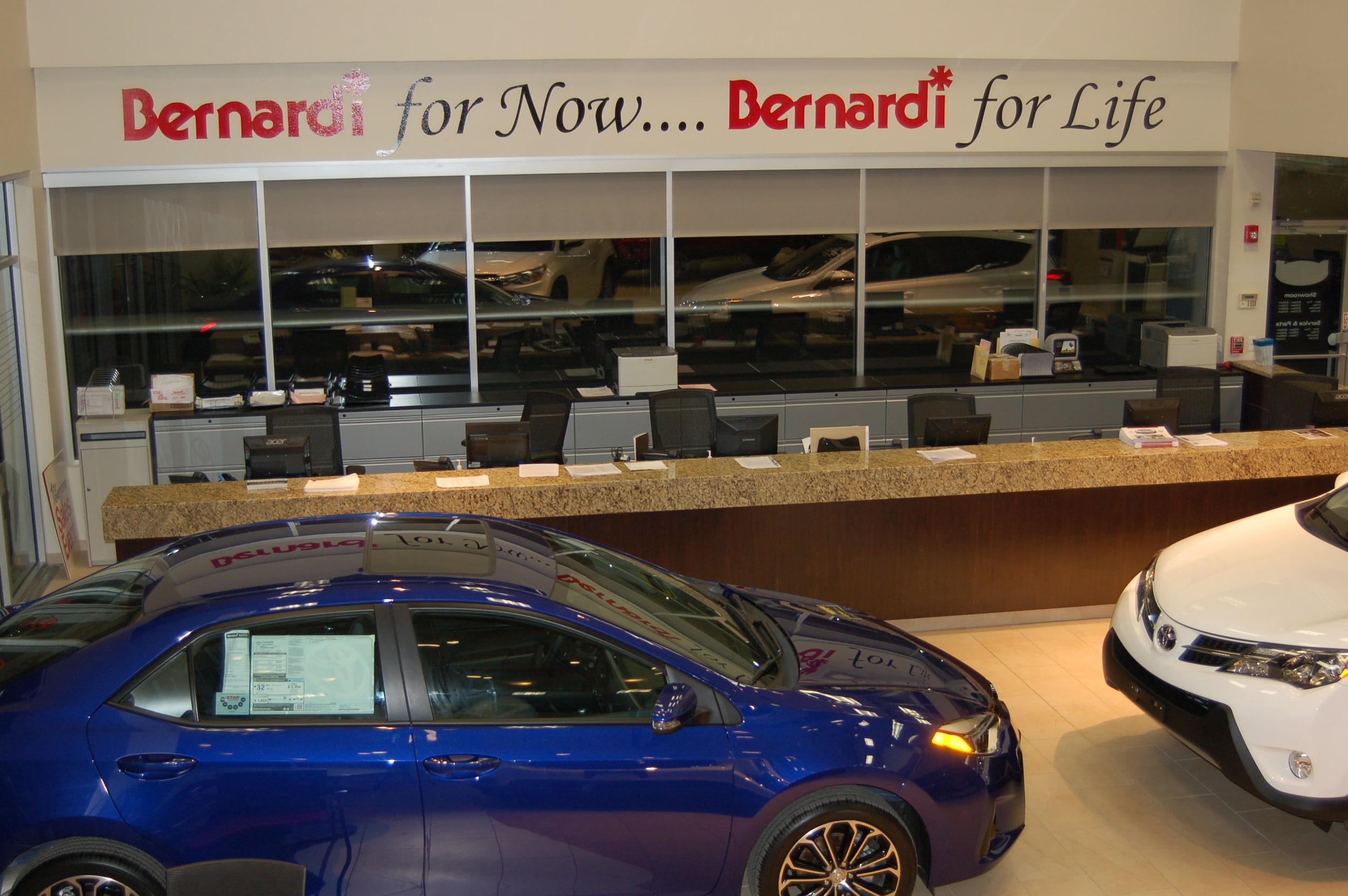 The sales managers are stationed at a walnut counter with granite-topped work surfaces. They too enjoy the greater visibility throughout the showroom to ensure that client needs are met.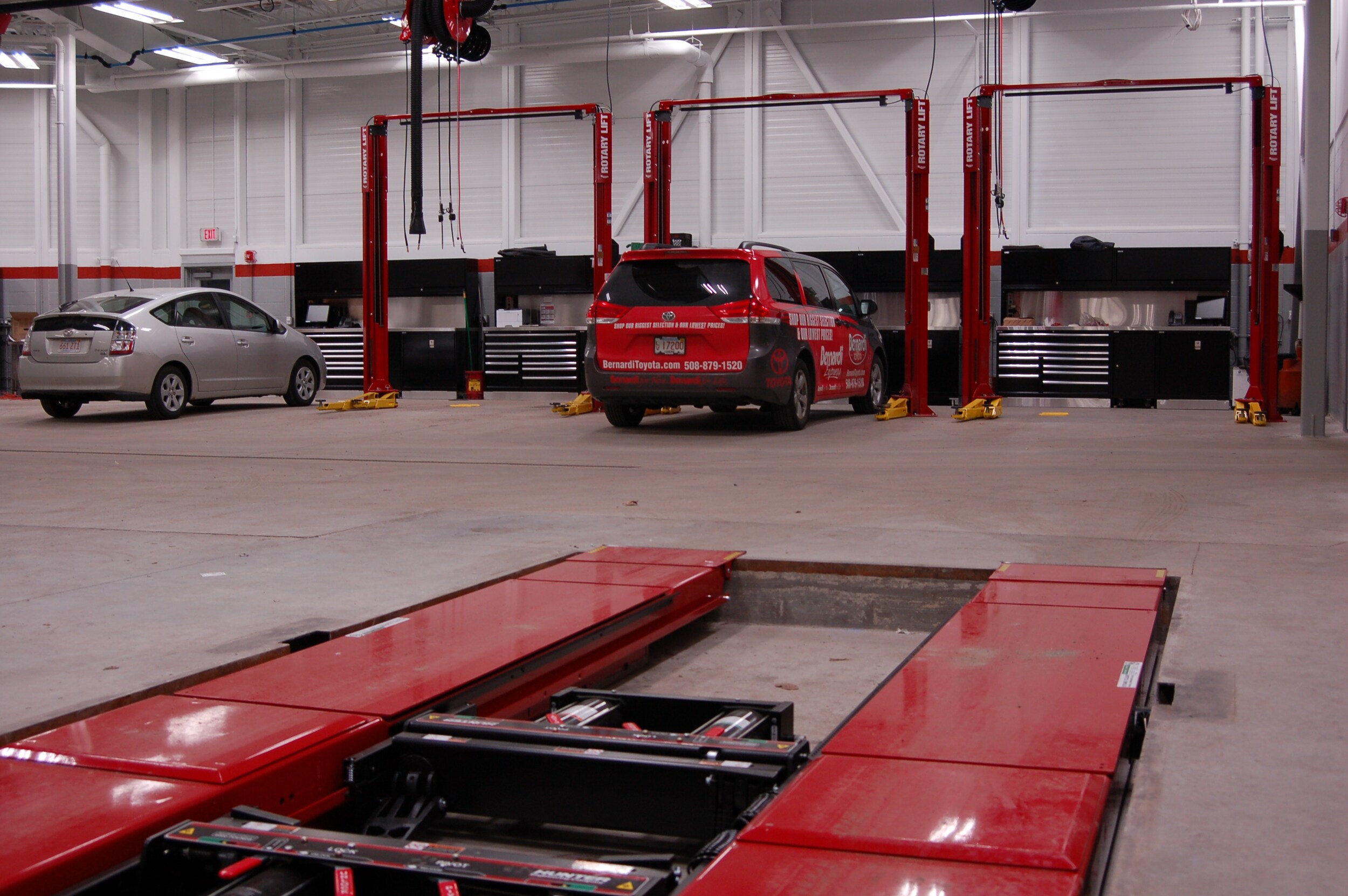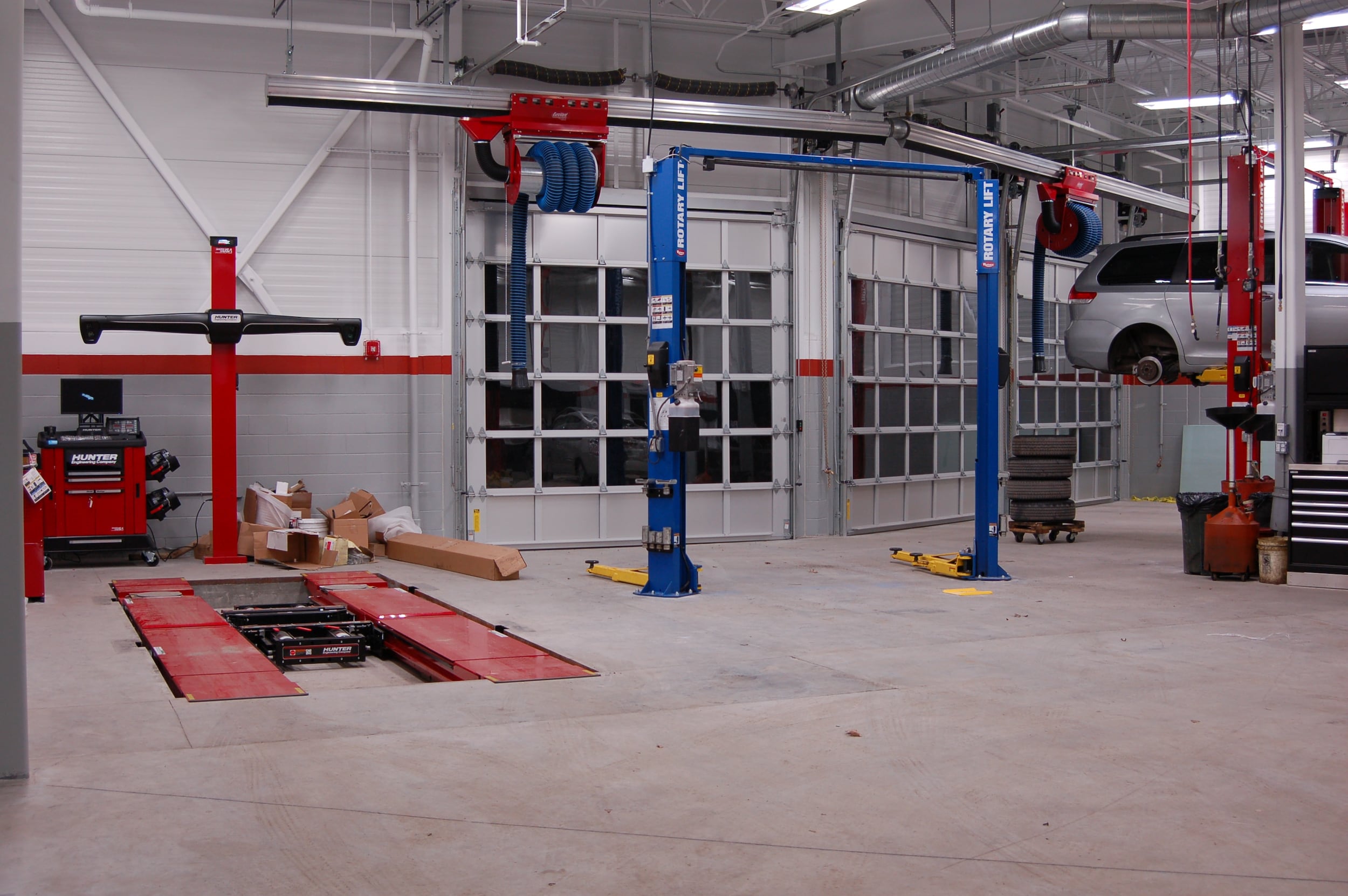 The expansion of the service shop adds more service bays and another alignment rack which will allow Bernardi Toyota to complete more customer repairs and maintenance efficiently. There is even a new TOYOTA sign on the end of the building to help guide customers traveling on the Mass Pike or from the west on Route 9.
Please stop in to see the All-New Bernardi Toyota soon!
Jan 5, 2015 - Phase One is Complete!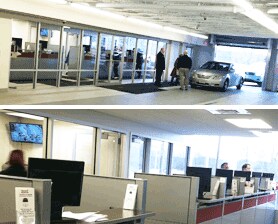 In mid-December, project contractor cm&b, inc turned over Phase 1 of the Bernardi Toyota renovation to the dealership. Now the all-new Service area is occupied and assisting customers. The Service Adviser area is completely new, with a beautiful tile floor, all new furnishings and a cashier counter conveniently located within the Adviser area. The Service Drive has been expanded and includes new high-speed overhead doors at the entrance, a new tile floor and valet station and an open ceiling feature that makes the drive brighter and roomier.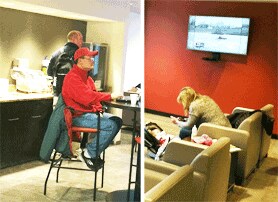 On the other side of the Service Drive our clients will find a completely renovated customer lounge and café with new and comfortable furnishings. Two flat-screen TVs enhance these areas and a coffee bar offers complimentary beverages and snacks. For those who prefer to use their wait time to work or browse the internet, a business center offers individual work stations and a quiet atmosphere. Customer restrooms have been enlarged and fully renovated as part of the Phase 1 work.
Now that the Service staff has returned to its original but all-new home and the Service Drive is back in use, traffic in and around the property is greatly improved. We advise all visitors to use caution throughout the duration of the project, however, as we will still be experiencing a number of sub-contractors and materials deliveries to the site which often involve large vehicles and/or heavy equipment.
Phase 2 work has begun and the showroom has been divided approximately in half, with this phase work concentrating on the northern or rear part of the sales area. Removal of showroom tile begins with this phase, and the existing Finance Offices will be renovated with new paint and carpet. The sales staff area will also be upgraded with new finishes. Phase 2 has a short duration but a great deal of intensive work will be involved.
As with any construction project certain inconveniences are encountered and the Bernardi Toyota job is no exception. We strive to minimize challenges to our customers and we appreciate your understanding and patience during this process. If you have any problems or suggestions we want to hear from you! Please feel free to speak to Mike Knox, General Manager, General Sale Manager Joe Chang, Service Director John Dowden or Parts Director Bernie Geddry. All are typically on-site daily and available to assist you. If you prefer, you may email Mike Knox at Michael.Kox@bernardiautogroup.com with comments, complaints or suggestions.
Nov 6, 2014 - Project is Underway!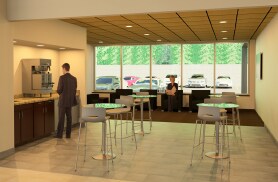 Right after Labor Day 2014, bulldozers and excavators fired their engines to begin the expansion and renovation of the Bernardi Toyota-Scion facility in Framingham. This extensive project includes the complete renovation of the building interior, with all new floors and finishes, a larger, more comfortable enhanced customer lounge, new customer workstations and café area and completely redesigned men's and women's rooms.
Two additional Finance Offices will be added to expedite the completion of the sales transaction, and the main entrance will be more open and welcoming to guests.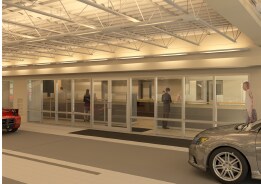 Service Reception will include a larger, tiled drive, an all-new Service Advisor area with easy access to the cashier and rental stations and the retail parts counter. And, 10 new service bays, including two exclusive truck bays, will be housed in an addition to the west end of the building so maintenance and repair needs can be accommodated more quickly and efficiently.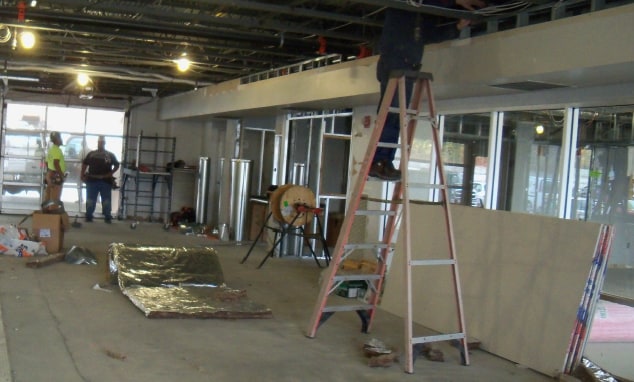 The site work for the service addition had been completed and steel has been erected - the new shop is really taking shape!
On the interior the existing customer lounge, restrooms, service drive and Service Advisor areas have been demolished and framing, rough plumbing, electrical and heat/air conditioning work is underway. This first phase of the interior renovations is tracking to schedule and is expected to be complete at the beginning of December.
Check back for periodic updates!